services
Walker and Gray Earthworks offer a comprehensive range of services including Horizontal Directional Drilling, High Density Polyethylene Butt Welding, Cable and Optical Fibre Installation, Vacuum Excavation and Pot Holing, Rock Sawing, Trenching, and general Civil Works. Our objective is to provide a high quality, diverse, reliable and professional service to all areas of business and industry in any location.  Our friendly and dedicated staff are trained and experienced and operate modern, efficient and well maintained plant and equipment.  We are recognized as industry leaders in our local work environment and take great personal pride in all work that we complete.
horizontal directional drilling
HDD is a non invasive, environmentally friendly drilling process capable of installing conduits and cables  in many diverse environments.  Our modern, state of the art DitchWitch drilling rigs are capable of  boring up to 300 metres in length and installing conduit or cable up to 500mm in diameter.

Horizontal Drilling alleviates the need for open trenching and the associated inconvenience of closing roads or public area's to perform works.  HDD also preserves the existing ground conditions without the need for costly repair or reinstatement and conduit can be installed beneath existing infrastructure as opposed to trenching around the obstacle
HIGH DENSITY POLYETHYLENE BUTT WELDING (HDPE)
With over 14 years of experience, Walker and Gray are committed to providing the highest standards of HDPE thermal pipe welding.

Our staff are accredited and fully trained in accordance with the procedures and regulations set out in the relevant International Standards and are equipped with the latest fully automated hydraulic welding systems. At present, we are equipped to weld pipe with outside diameters in the range of 50 – 450mm and will discuss larger pipe sizes with clients depending on Project requirements.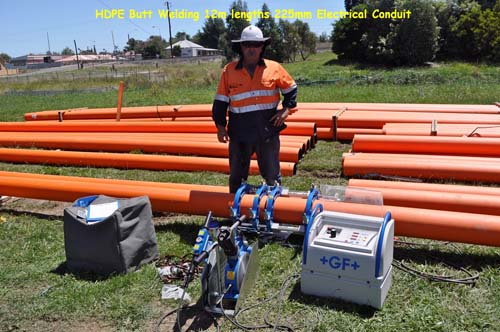 rocksaw and chain trenching
Our Rocksaw's can get the job done easily where the ground conditions are simply too hard for other  trenching and excavating plant.  The tungsten tipped teeth of the Saw Wheel will cut through solid rock, flint, stone, bitumen and even concrete.  We can cut to a depth of 1000mm at a width of between 100 to 225mm.

Chain trenching is  less invasive than open excavation and our equipment will cut a trench up to 2400mm in depth at a width of up to 600mm.
hydro vacuum excavation
Hydro Vacuum Excavation is the latest State of the Art non invasive  method of excavation by using a high pressure water jet combined with an enclosed vacuum tank.  Hydro Excavation is perfectly suited for potholing and locating existing services including Communications, Power, Gas and Water.  The equipment locates services rapidly and alleviates the chance of striking services by hand digging or excavation.  We can excavate up to 4000mm and open a trench of any length for any purpose.
pit and pipe installation
Walker and Gray Earthworks are accredited installers of service pits, conduits, pipes, Optical Fibre and copper cable for Telstra, ServiceStream, ETSA Utilities, Optus, NextGen, SA Water, Origin Energy and the National Broadband Network.  Our staff are all trained and experienced in all facets of installation including the hauling of cable and fibre.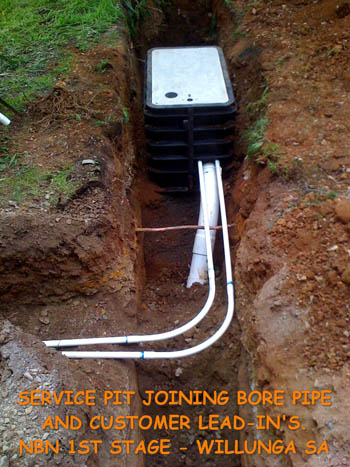 general excavation
We are also able to complete any general excavation project using our fleet of excavators and tip trucks.  We also have a bobcat for access to small area's and trained and experienced employee's to operate all plant.
service location
Using our SubSite Locating equipment, we can locate any number of services including power, water and communications, prior to you beginning an excavation.